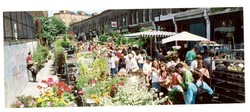 Welcome To My Home Page. In this first paragraph. I should introduce myself. I am George Gladwell. The Representative of the Columbia Flower Market
The information in the associated pages, also the photos are genuine to the Columbia Flower Market.
It is a derivative of stalls trading alongside an ancient Cattle Drovers road, historically way back into the 18th Century. From its's early beginnings until the presnt day. It is now reduced to the small street it is contained in.
Click on the above image for full size photo
Tucked away in a small street in the heart of London's East End. The most unlikely setting to get lost in. A magical world of colourful plants. Fauna and Flora for in-or outdoor enjoyment. The character reminiscent of the old, with a touch of the new. Fun chatter of the traders. the amazing interest of punters who visit in droves to mingle among the 52 plant and flower stalls, nipping in and out of the 30 or so garden orientated shops, believing this to be their own secret little market.
I do hope you are given some idea of the activity of this unique and now world famous icon.

The Exotic produce that is seen in the market comes from nurseries throughout the Home Counties. Many also arrive from various other countries throughout the world.

We do realise that only the best quality is good enough for our visitors to purchase at a reasonable price. Most customers go away heavily laden with armfuls of Plants and Cut Flowers, with the happy expression of a triumphant buy


I have been trading in the market since 1949 and have hardly missed a Sunday morning during that period. Also having been a Nurseryman and Market Trader contiuously during that time, I have seen the market grow to what it is today. Very well attended by visitors from all over the world.
This is definetly the place to cool out on any Sunday morning
I am always ready to give you information....send me an email. Strolling visitors >>>>>>>>>
Send an email
I HOPE MY SITE INTERESTS YOU

THE CUT FLOWERS IN OUR MARKET ARE PROBABLY THE BEST EXOTIC SELECTION IN THE COUNTRY.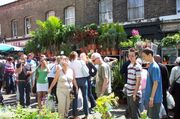 Our crowds are always happy
I hope adding captions makes my pictures more interesting.
Send an email